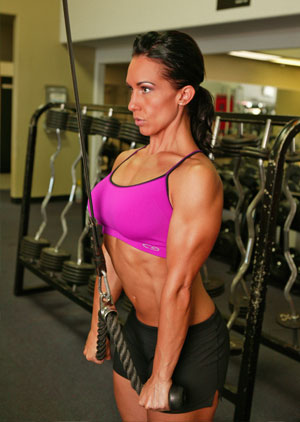 Ever wander through a gym, people watch at the beach, or come across a person whose body seems almost perfect? Every ripple, curve, and muscle is perfectly aligned, and it's almost as if they've jumped off the cover of the newest trending fitness magazine. You compare yourself to that person and think, "I could never have that body." But you can.
Fitness is a Mindset
Every person has a different perception of being "fit." When you realize that fitness is a mindset, it becomes easier to become "fit" yourself. The person with ripples, curves, definition and tone works very hard to achieve that body, is very disciplined, eats a healthy and nutritious diet, and gets plenty of sleep. For him or her, fitness is a lifestyle, not something to squeeze in an hour or two a week as you have time.
But being fit doesn't mean you have to be on the same regime as they are. At the same time, understand that if you do want to look like that (and who doesn't?) your fitness routine will be very demanding. Hiring a personal trainer at Fit Style can help!
Make Fitness Your Goal
If you have decided you want to become more fit, you have already made the first step to a better body and a healthier way of life. And we congratulate you! Maybe you want increased muscle strength, a slimmer waistline, or a trimmer physique. Perhaps increasing your squat weight, running farther, or working out more efficiently is your target. Whatever your idea of "fit" is, Fit Style studio in Pleasanton can help!
Start with a Free Assessment!
At Fit Style, our goal is to help our clients realize their potential and to provide them the encouragement and tools to get the body they want. Our certified personal trainers provide a Free Assessment to get you started to looking and feeling great.
Trainers at Fit Style understand how much work it takes to stay in shape, and we also know the benefits to being fit. We started from scratch, too! As your personal support team, we are here to keep you motivated, encouraged, and focused. Here are a few of our favorite tips to help you be fit!
Tips to Being Fit
1. Have a real expectation of what you want and how much time it will take to get there-great results do not happen overnight!
2. Keep a positive mind set – some of our best workouts happen when we aren't "feeling it!"
3. Nutrition and a healthy diet are just as important as working out.
4. Set realistic goals for yourself and celebrate your victories along the way!
5. Understand that becoming fit is a journey, not a race – every step matters.
6. Be honest with your personal trainer – if you are sore, injured, sick, or feel the workout is too demanding, tell us! We can alter your workout. Getting fit does not hurt!
7. Get plenty of rest and drink plenty of water. Your body is morphing and needs rest and liquids, too!
8. Keep going! Yes, sometimes it's easy to make excuses or give up, but there's a reason you started on the road to get fit – keep it up! Need motivation? Take a look at our Before and After Pictures!
9. Sign up for our Body Morph Challenge! It's an 8-week diet and exercise class that puts money back in your pocket for losing weight!
10. Fitness is mostly in your mind. Your body does what your mind dictates. When your mind is at peace, enjoying the movements, having fun, and feeling GREAT your body will start to push past its limits and reward itself with a slimmer, leaner, healthier version of you!
Fitness Starts Now!
There's a reason we earned the 2016 Pleasanton Weekly's Reader Choice Award and are nominated again this year. Our team of fitness experts can start you on a fitness routine today!