InBody Scan
FREE Body Composition Analysis (worth $75) with BodyMorph and Personal Training
Weighing yourself on a scale only gives you a number. You can't know what percentage of your body is muscle, water, or fat. Without more detailed information, you can only guess at the exercise and nutrition you need to achieve optimal results. But no more!
Our high tech Body Composition Analysis will tell you exactly how much of your body weight is muscle, fat, water & skeletal mass. InBody scan technology analyzes your body in segment by segment to get an extremely accurate reading of your body composition. Below is the detailed information you will receive from a certified personal trainer about your body: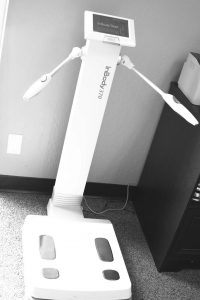 Weight

Lean Body Mass

Body Fat Mass

Total Body Water

Dry Lean Mass

Body Mass Index (BMI)

Percent Body Fat

Percent Lean Mass

Basal Metabolic Rate (BMR)

Segmental Lean Mass (right arm, left arm, trunk, right leg, left leg)

Impedance of each segment
Knowledge is power! The more you know about your body, the more you can tailor your fitness program to fit your needs. Sign up for BodyMorph or Personal Training today to get a FREE InBody Scan!